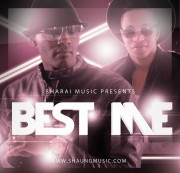 | BEST ME - MUSIC RELEASE | SHAUN G FEATURING 5TH ELEMENT |SINGLE AVAILABLE MARCH 22ND, 2016 |
HOUSTON, TEXAS, March 16, 2016 (Newswire.com) - #BESTME- Is the new motivational music anthem. It offers an up-tempo new age R&B Pop Feel. The Song is magic as the rhythm hypnotizes and takes you away. This is a song that has a great message of empowerment of pushing yourself to be the Best you. An all around feel good song from start to finish.Sharai Music Group is introducing Shaun G, a gospel artist who will be releasing his new single "Best Me" on March 22, 2016. Shaun G has an innovative style which incorporates a dynamic and unique sound to his genre of Gospel.
In addition, "Best Me" is available for streaming on Tidal.com and can be purchased on Amazon.com as well. The tune is fun and inspirational and has an easy crossover appeal that will surely uplift any audience. Take a listen on...
"Excellence is not being the best; It's doing your best. #BESTME #KINGDOMFRESH #SHAUNGMUSIC"
Shaun G is a Musician, Composer, Producer, Singer/ Song Writer and Business Man. His passion for music, God, family and fun creates an exciting and thrilling experience for his listeners. His music transcends generations and brings people closer together. You can be prepared to be captivated by unique sounds that make you want to dance, rejoice and praise God!!!
The Best Me, Single can be found exclusively in Amazon Stores( Click Here to Preview the Song). You can also Exclusively stream the Best Me Single on Tidal (Click Here to Stream)
You Can Follow Shaun G on Facebook, Instagram or VEVO.
Please get in touch with Shaun G's Management Team for promotional copies, exclusive interviews, performance quotes and production requests.
| Sharai Music Group © | www.sharaimusicgroup.com | 888-419-3339 |  |info@shaungmusic.com |
Share: